LAN chat and instant messaging software suite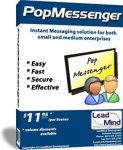 LeadMind Development announced version 1.62 of its feature-packed instant messaging and chat software for Local Area Network (LAN). Pop Messenger is an easy-to-use chat and message sending over SO/HO or enterprise local network software solution capable of sending chat, private and broadcast messages to online and offline users. Besides the simplicity of use provided by means of straightforward user interface, PopMessenger features customizable text font and color as well as user-defined sound alerts. The application combines extended functionality with surprising speed of operation.
What is the importance of LAN instant messaging today?
As the world starts moving faster, we all want to catch up with the latest technologies. Indeed, investing in faster, more reliable and less human-dependent technologies, is a great opportunity to win the race and beat the competition.
One of the key factors of successful business operation is well-thought staff communication system. Good managers know that each minute of work time spent in vain means profit loss. That is why building fast and convenient personnel communication environment is so important, these days.
Common means of communication, such as verbal instructions, phone conversations and e-mail messaging, are far from perfection when it comes to delivering short messages to multiple individuals. Internet-based instant messaging solutions are good but they rely on third-party services which makes the entire system unreliable in question. The best solution shall be an instant messaging (IM) software working in local network. IM already is in many companies. So, what are you waiting for?
Chat and send text messages and files to anyone on your LAN easily and securely!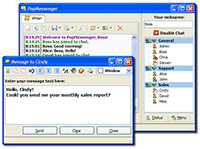 Introducing PopMessenger by LeadMind Software, the complete small to large enterprise level instant communication solution that offers full range of instant communication tools that do not require a dedicated server or usage of third party services.
Transfer your Thoughts using PopMessenger!
Short overview
About LeadMind Development
Founded in 2000, LeadMind Development united experience of independent developers focused on creating effective software solutions for SO/HO market. As of now, LeadMind Development provides high quality enterprise software solutions as well as consulting and related information systems developments services to small and medium businesses.