What is the Messages History?
---
Overview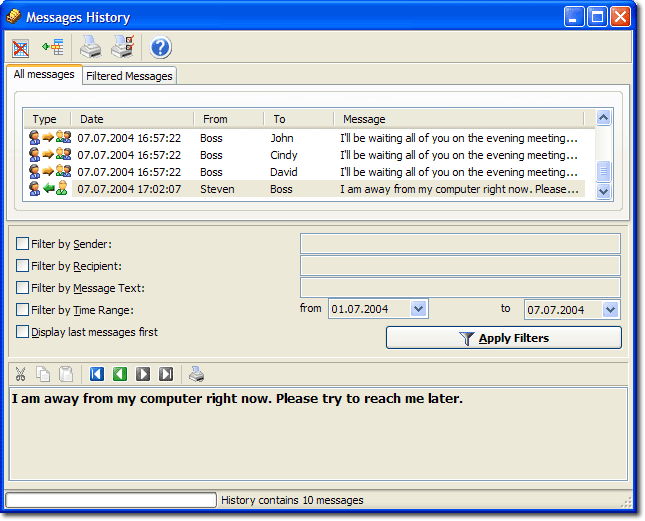 'Messages History' window allows you to view all the messages you received or sent. The first tab (All messages) in the messages list shows all the messages you sent or received. The text area on the bottom of page shows current selected message. The second tab (Filtered messages) shows the filtered messages.
Using the filters
If you wish to find a specified message, you can take advantage of the filters. There are 4 filtering methods available: by sender name, by recipient name, by message text or date. You can use a filter both together with the other methods, and separately. Just select a filter method, fill-in the required field and click the 'Apply filters' button. The filtered messages will be shown at the Filtered Messages tab.
Managing messages
In addition of viewing the messages, you can print and delete a picked message or whole list. To delete a message, just select it first and press Del or click this icon:

If you want to clear the current messages list, press the

'Clear current list' icon. Multiple messages can be selected by pressing Ctrl key and selecting desired messages.
To print a message use the same behavior.
Describing window controls
Icons description
Browsing messages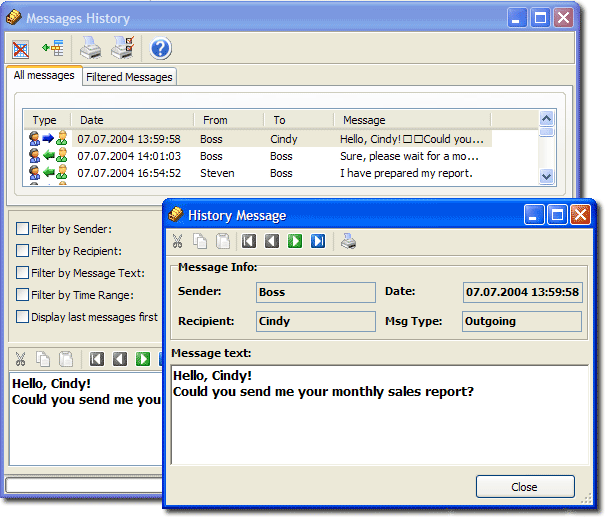 It is convenient to use a separate window for message viewing and navigation. To show the 'Messages History' window simply double-click a message.
Describing window controls