How to send a chat message?
---
Public chat messages
PopMessenger provides two chat message types. The first is the public messages. Your message will be delivered to anybody who activated the Chat mode. To activate the Chat mode, click the [

Enable Chat] button. To send a public message, firstly select the main channel. Usually, it is the first channel on the Channels list, named "#Main". Type-in your message into the Edit Box and press [Enter].
Private chat messages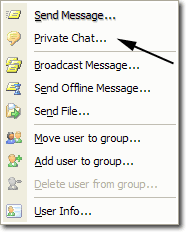 The second type is the private chat messages. As well as being able to chat on public channels, PopMessenger also allows you to chat privately with someone. If you are on a channel (Chat Mode Enabled), and you see someone you'd like to chat with, you can right-click in the nickname listbox and a popup menu will appear with various options. One of these options will be to open a private chat with the person selected in the nickname listbox. If the option is disabled (grayed), it means that the person turned off the Chat Mode. You can ask him to turn it on by sending an instant message.
Describing the channels icons
Public channels and private chat rooms are have the different icons. The public channel has the icon like this -

and private chat has the icon like this one -

. If you just received a message to another channel, the icon will turn to red. It means that you have a message in another channel. Please see the example: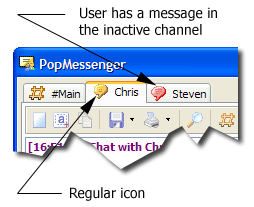 Describing the chat window toolbar icons