Sending file
---
Overview
PopMessenger supports the file transfers. This means that any user can send or receive files. This function is intended to help you establish fast and effective file exchange over your network environment.
How do I send a file?
Right-click the desired recipient's nickname and then select 'Send file...' from the context menu that appears. The File Transfer window will appear.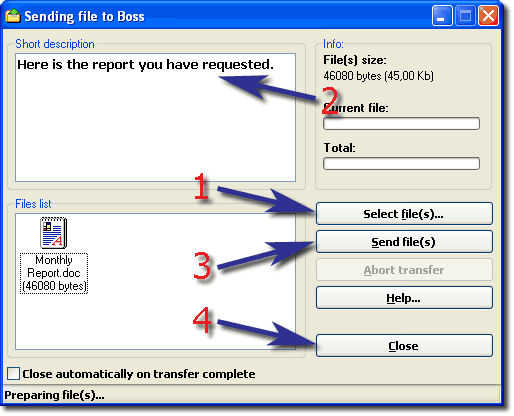 Follow these 4 steps:
1. Select a file to transfer. You can also select multiple files using [Ctrl] or [Shift] keys when selecting files.
2. Type in a short file description if you wish.
3. Click the 'Send' button. If remote user accepts your file(s), PopMessenger will start the transfer. Click 'Abort transfer' to abort the file sending process.
4. Close file transfer window after the transfer is complete. You can check the 'Close automatically on transfer completion' box to make the dialog window close automatically.