Interface Settings
---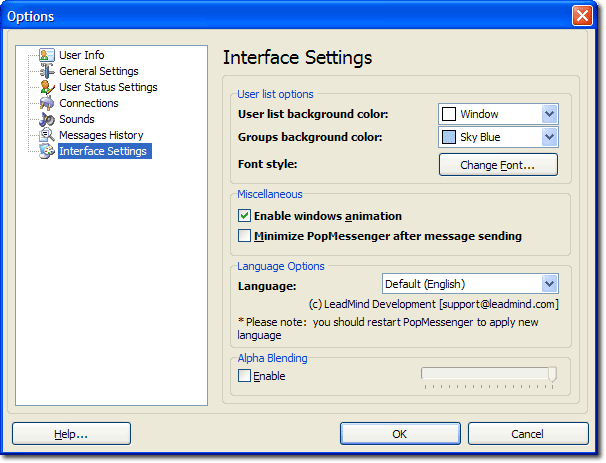 Details
Users list background color. This option allows you to select the background color for the users list.


Groups background color. This option allows you to select the background color of the groups' names.


Font style. This option allows changing font of the main window text.


Enable windows animation. Turn off/on windows animation during a sending message, minimize/restore PopMessenger, etc.


Minimize PopMessenger after message sending. Minimizes the main window of PopMessenger into the System Tray each time you sent a message.


Language. If you want to change a language, select it from the list. Please notice, you should restart PopMessenger so that this setting takes effect.


Enable Alpha Blending. This options allows you to add some transparency for the main window of PopMessenger. Please note, this options is available for Windows'2000 and higher only.
Multilingual Support
PopMessenger features a multilingual interface. This means that the application supports different languages. The default language is English. Number of other languages that can be easily added at any time is unlimited.
To add a new language you should visit the download page and check whether the language you are looking for is available. If the required is listed, simply download the corresponding Language Pack and install it.
How to install a language:
Download the required language pack from our web site.
Decompress it to PopMessenger folder using WinZip compression utility
Start/restart PopMessenger and select a new language in the 'Options' window.
Restart PopMessenger.
Translators wanted!
If you can help us implement the support of another language(s), please drop us a line - you will be granted free license(s)! Please, contact us prior to sending us your language file for such Language Pack may already be under development.